Fire Damage Restoration Beaverton, Oregon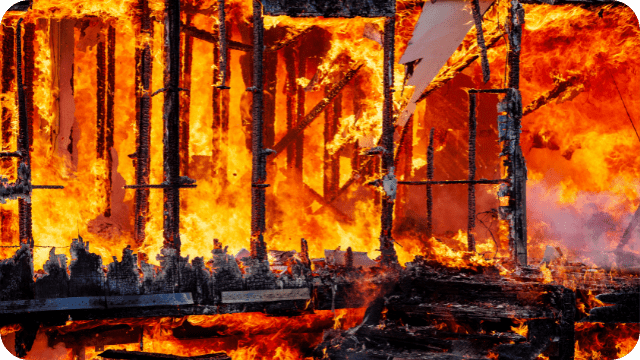 Fire damage can cause an eruption of chaos in your home or work life. If a fire ignites and damage occurs, a restoration team will be needed to clean up the property. In the instances of smaller fires, smoke and soot damage may be present.  Smoke traps itself inside porous or fabric materials, causing the smell to linger. This can cause unpleasant odors in a building to linger far after the fire has subsided. Soot is a result of materials not completely burned away.
This lasts as a black, powdery substance that clings to surfaces. If you have experienced an event such as this and are in need of fire damage restoration in Beaverton, Oregon, our specialists can assist.
Our technicians in Beaverton, Oregon specialize in fire damage cleanup. With plenty of experience, our technicians can handle all levels of fire damage dealt with your property. 
Whether it is soot, smoke, or something more severe we can restore it all to pre-loss conditions. When it is safe to return to your home or office, give our fire damage experts located in Beaverton, Oregon a call at (971) 270-3960 to assist with the restoration process. Our service line is always open, 24-hours a day, 7 days a week. With this number, a local expert will gather your information and someone will be at your property. In emergency cases, our fire damage restoration specialists can be at your property in as little as an hour.
Contact Local Fire Damage Restoration Experts
When a fire happens, our fire damage technicians in Beaverton, Oregon will start by doing emergency repairs. There may be broken windows or parts of the property that are exposed to the outside. To help prevent more damage, we may board up the windows or put tarps up. This will help protect your property from the elements. Our technicians will comb through your property to remove any leftover debris from the fire, clear it out, clean it up and sanitize it. After that's done they'll make sure to bring your property back to normal, back to its pre-loss conditions.
Read What Our Fire Restoration Customers Are Saying​
"Exceptional company! Very easy to work with, responsive, on time, and of great quality. URWG helped us with water damage mitigation and a small ceiling repair. I would definitely hire them again."
"Many thanks to the team at UWRG! Thank you Jake for your excellent customer service- and Alex for your professionalism, great communication, and time in the repair project. I'm particularly impressed with the completed work because our building has very old wallpaper that would be impossible to find, and they did very minimal cutting so they could save the wallpaper- and it looks great! Very precise! Thank you all!"